NEW CONOCER ECO110.02 CERTIFICATION PROCESS
GET CERTIFIED WITH CONOCER!
This is the newest real estate CONOCER certification in México. Was recently updated and includes what you need to know about the Norm 247.

This certification process, which includes the alignment workshop, evaluation and certificate (if you pass) in the CONOCER standard of competency, REAL ESTATE CONSULTANCY SERVICES, is recognized by state and federal authorities for licensing purposes of proving your capacity to sell real estate in Mexico. It is recommended that you have at least one year experience in real estate.
56 Students

Have taken this certification

3 Zoom or
recorded hours

Free tools

Real estate contracts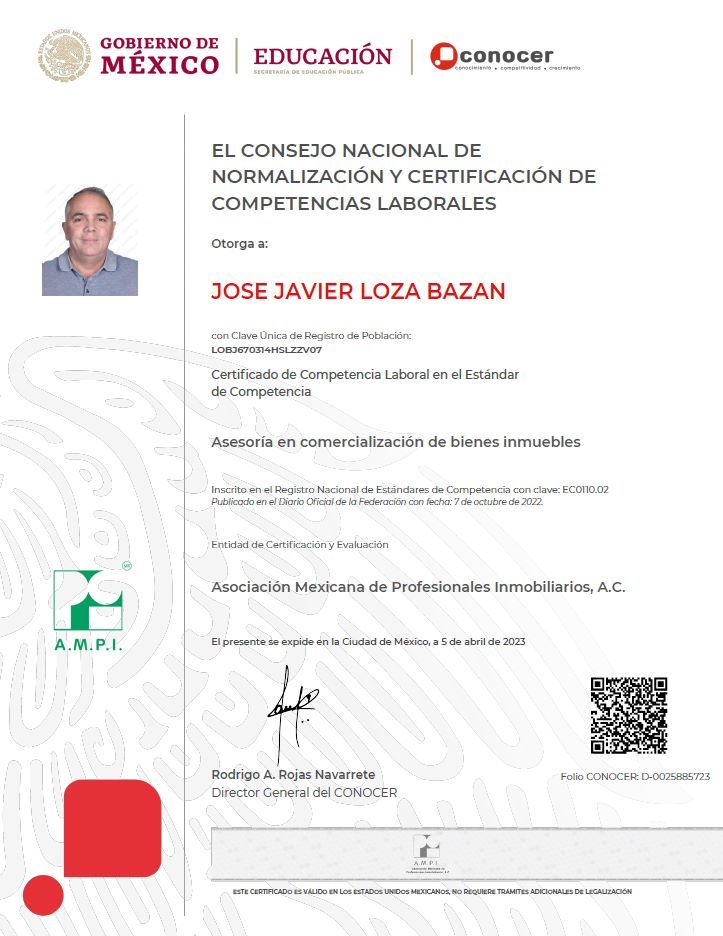 What does this certification process include?
Alignment Workshop
The course is via ZOOM and will explain the entire certific ation process in an easy to understand manner.

The standard document and diagnostic evaluation is FREE.
Evaluation
Your abilities as a real estate profesional in tourist zones will be evaluated in three manners:
PERFORMANCE
EXAM
PORTFOLIO OF EVIDENCE
Certificate
If you pass the evaluation process, you will be awarded a certificate by CONOCER and the Secretary of Public Education. This certificate is accepted by state governments for the real estate state license in some states, like Baja California Sur, Quintana Roo and Queretaro.
Javier Loza
In the last 10 years, Javier Loza has evaluated over 500 real estate profesional in Mexico. He has ample experience in real estate and in the CONOCER evaluation process.

Javier knows how to convey his message and is one of the most recognized instructors in the real estate industry. He has a daring, entertaining and dynamic style. With a great sense of humor and the latest in course delivery strategies, Javier ensures that participants have an informative and educational learning experience.