Working with an IDX configuration in Omni MLS
Some agents want to be able to add the Omni MLS listings onto their own webpage. This can easily be donde via an IDX configuration. It is not important to know HTML and coding in order to do this, as Omni MLS provides you with a simple HTML code to insert onto your webpage (or just pass onto your webmaster and he can do this).

It is very important that you have your PERSONAL BRANDING configured before you begin the process of using the IDX configuration.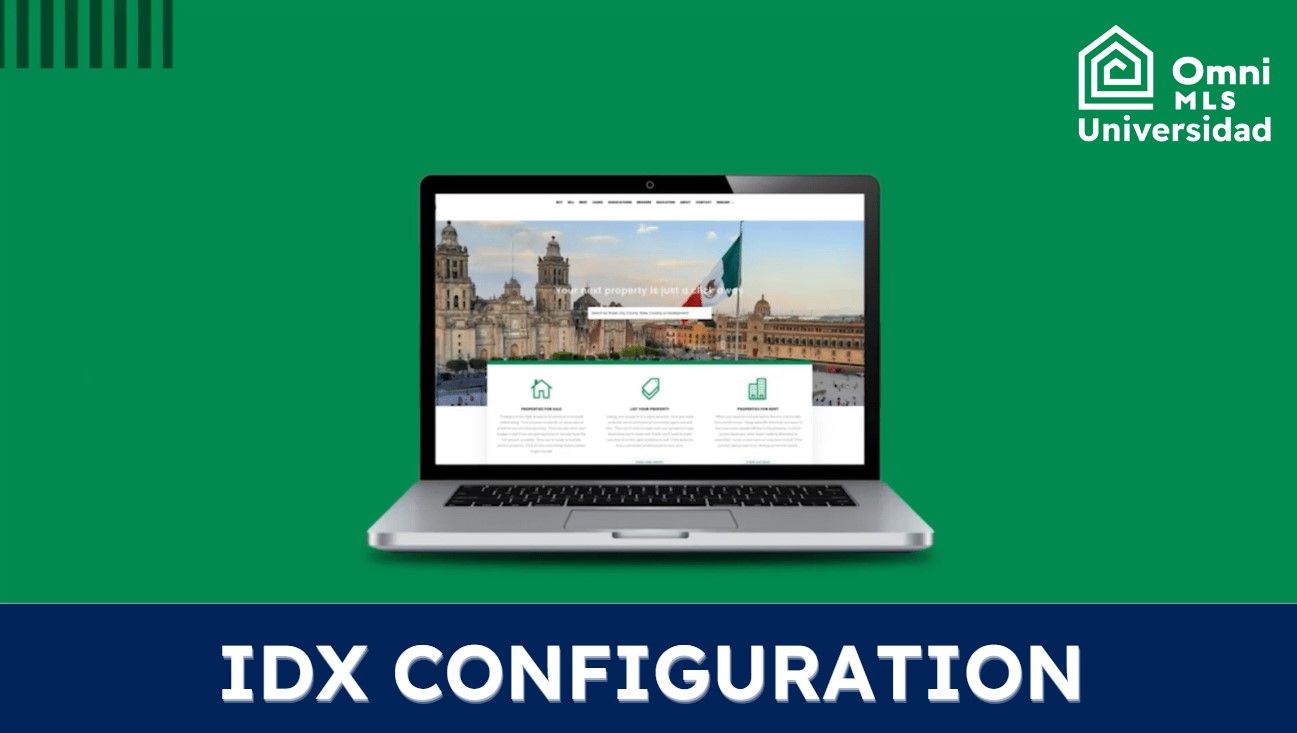 What is an IDX?
IDX stands for Internet Data Exchange. In the context of real estate, IDX refers to a system that allows real estate brokers and agents to display and share listings of properties from the Multiple Listing Service (MLS) on their websites.

With IDX, a broker or agent can set up a website that displays MLS listings for a particular geographic area, allowing potential homebuyers to search for properties that meet their criteria. The listings are updated automatically and in real-time as new properties become available or are sold.

IDX typically requires a broker or agent to have a special license or permission from the MLS to display its listings on their website. The broker or agent also has to comply with certain rules and guidelines for displaying the listings, such as identifying the source of the data and not altering the content of the listing.

Overall, IDX makes it easier for buyers to find properties that meet their needs, and for brokers and agents to generate leads and grow their business online.
How to add IDX in a WORDPRESS site?
How do I get IDX on my website?The easiest way to do this is by using the IDX widgets. Head over to Appearance » Widgets page, and you will see multiple IDX widgets that you can add to your website. This includes IDX listings, IDX area, IDX search, and IDX single listing widgets. You can also add MLS content to your WordPress posts or pages.
What is an MLS?
An MLS, or Multiple Listing Service, is a database used by real estate agents to share information about properties for sale. It's a centralized platform where agents can input details about properties they have for sale, including the price, location, square footage, number of bedrooms and bathrooms, and other important features.

Other agents who are members of the MLS can then search the database to find properties that match their clients' needs. This means that agents can quickly and easily find properties that are available for sale, without having to contact individual sellers or visit properties in person.

MLS databases are usually private and only accessible to licensed real estate agents who are members of the service. This allows for more efficient communication and collaboration between agents, which can help speed up the buying and selling process.
What is the difference between IDX and MLS?
An MLS is the source of current and new real estate listings in a given area, and IDX is the software that places this information directly onto a real estate website for the public to see.
Javier Loza
In the last 15 years, Javier Loza has shared his knowledge with thousands of professionals, in forums, congresses, universities, and through face-to-face and online courses and conferences. Javier knows how to convey his message and is one of the most recognized instructors in the real estate industry. He has a daring, entertaining and dynamic style. With a great sense of humor and the latest in course delivery strategies, Javier ensures that participants have an informative and educational learning experience.